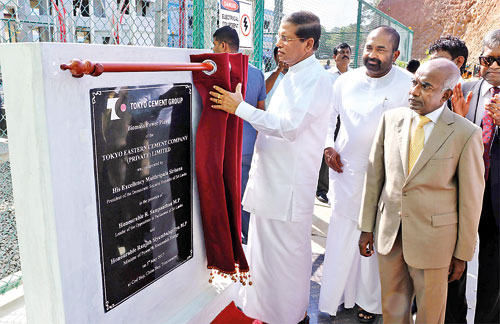 President Maithripala Sirisena last week ceremoniously inaugurated Tokyo Cement's second Biomass Power Plant in Trincomalee as part of a series of events held in commemoration of the late founder Chairman A.Y.S. Gnanam.
The events included the foundation laying ceremony for a housing project for 25 families displaced during the war, distribution of deeds to residents of the Tokyo Cement Tsunami Housing Scheme in Nilaveli, foundation laying for a Technical Building and the commissioning of the Biomass Power Plant inside the Tokyo Cement Factory Premises at Cod Bay, China Bay.
"Mr. Gnanam was a pioneering entrepreneur who ventured into many of Sri Lanka's firsts, which included the generation of Renewable Biomass Energy.  President Sirisena's visit to the Tokyo Cement Factory to inaugurate the company's 2nd Biomass Power Plant with a capacity of 8 MW to power the company's latest manufacturing facility, was a salute to his legacy that will continue to live on for generations to come," the company said in a media release.
The over 2.5 billion-rupee power plant will add 70 Gwh per year to the national grid generated using industrial and agricultural waste sourced through community trade.  In total, the plant will produce 160,000 MW Hours of clean renewable energy per year, equivalent to the annual electricity consumption of 100,000 Sri Lankan rural households.
S.R. Gnanam, Managing Director of Tokyo Cement said that the company has become the single largest contributor of renewable energy in the nation, generating 23 MW with the ability to  supply 2.5 MW surplus capacity to the national grid.
http://www.sundaytimes.lk/170514/business-times/tokyo-cement-opens-2nd-biomass-power-plant-in-trinco-239700.html