Highlighting the importance of diplomacy of the garden over the ages, Dr. Sarala Fernando laments the official apathy towards protecting the natural splendour we have inherited
Our political leaders seem to admire and take Singapore as a model. Yet, consider how much planning, resources and energy have gone into branding Singapore as the garden city. They would have started from scratch and amidst all that concrete and high rise construction in a limited space, Singapore's leaders have done admirably to create an empathy in their people for the planted natural surroundings and their care. It is also high diplomacy because Singapore depends heavily on tourism and needs to keep constantly adding to its attractions.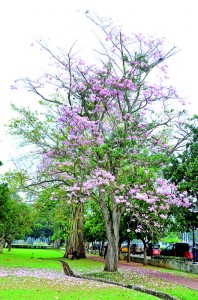 Here, just look at the splendour we have inherited, the giant Flamboyants showering red and orange flowers on pavements, the yellow Ehela hanging down in clusters, the Mara trees also shedding gold on the concrete below,  not to mention the ubiquitous Araliya  and Bougainvillea in all colours. Have you seen just now the pink of the Tabebuia is beginning to show, pleasing to the eye amidst the grey clouds and rain . Yet why do we not appreciate these gifts of nature – only a few committed stalwarts like the Ruk Rakaganno  organisation is dedicated to "protect the trees" amidst all the drive to cut them down for more concrete and asphalt!
Why is that  people no longer care for and know about the trees around them? Trees are living entities which are connected to all life forms.  What damage we do to trees will eventually impact us all.
The National Trust has invited experts to publish coffee table books on Flowering Plants and draw attention to what is Growing in the Garden. These books have much value for our country's promotional efforts but the tourism authorities seem unaware of our natural wealth and only pursue the monetary goals. How many of our VIPs have considered giving these books as gifts instead  of the token package of consumable tea ? In contrast, in all my diplomatic postings, the gifts from the highest in the land usually consisted of glossy coffee table books highlighting their country's heritage. The National Trust is supporting a project to publish a book on heritage trees and to nameboard  and conserve all the heritage trees in the vicinity of Colombo. It is a project which the Municipality and the UDA all should support, because in truth we are a city in a garden. However, the situation is so bad that some say don't name the trees because once observed there is a value, it will be cut down!
Singapore has turned its Botanical Gardens into a World Heritage site with all the research, financing and diplomatic skills involved, in order to enhance its country brand and tourism appeal. Here, in Peradeniya we have one of the oldest botanical gardens in Asia with a heritage going back to the ancient kings and modern assets of research, education and public amenities. Have we even taken one step to putting this treasure on the world map? There is a wonderful collection in the Arboretum of botanical specimen paintings (some of which are in Singapore) by a talented family of Sri Lankans going back several generations – why have these paintings not been published?
Some years ago, retiring from the diplomatic service, I had begun to work on a book on the gardens of Sri Lanka, unaware at the time of the rich heritage and variety of gardens in the country. At the time, my colleagues were sceptical and kept asking what is the connection between gardens and diplomacy? Yet in truth, in ancient times, gardens were the site of most diplomatic meetings, assemblies and functions. Mauryan Emperor Ashoka was known to hold public hearings in gardens much like the town hall meetings today. In this week of Poson we recall that the Sri Lankan King met Emperor Ashoka's envoy Mahinda Thera in Mihintale. From the Mahawansa  we can gather that this was not a chance meeting as in legend but probably pre-arranged in a garden of mango trees ( amba vanaya). The Mahawansa also relates that the first public sermons on Buddhism were pronounced in the palace gardens in Anuradhapura, (the elephant stables had also to be cleaned out to accommodate the huge throngs of people who came to listen) and the royal forest park was offered and accepted as a residence to the visiting high level delegation of monks.
Sri Lanka's garden heritage includes a number of ancient monastic gardens, probably unique in Asia.These sites, carefully preserved by the Archaeological Department include Kaludiya Pokuna of which much has been written. Now it seems that some foolish Minister has actually conceived of a plan to turn it into a tourist hotel, over the objections of the Archaeological Department . There are rumours that an ancient frieze has already been damaged in the process.  It seems our heritage treasures have no value for these ambitious politicians who only seem to want to make more money – shame!
Carefully preserved and protected heritage sites can be economically viable as numerous studies have shown. Yet when the thirst for revenue overcomes the care for managing the site properly,  it can all end very badly. Pinnawela is one such project once born to protect the abandoned baby elephants now reduced to a circus for the tourists, displaying techniques of bottle feeding to one or two young elephants  and in another corner one chained elephant being force-fed by tourists who buy baskets of fruit for this purpose. It's surprising that the supervising vets have allowed these things to happen, completely defying the purpose for which Pinnawela was set up.
Today our public gardens are indispensable sites providing the "green lung" of the city and enabling recreation, rest and recovery from the urban confusion and pollution.  So why is it that the Vihara Maha Devi Park for example is not showcased as a city asset where our foreign delegations should be invited to visit and walk around, like a museum?  Those who are regular visitors for exercise in Vihara Maha Devi Park know the value of this great spot in the city, including the fascination of the younger generation for the resident bat colony. We need to give credit to the previous government for bringing down the railings and making the park a living part of the city.
Gardens, with the calming effects of harmony in nature, also serve to create peace after conflict. Imagine how much better would be a garden for people to come to terms with grief than a monument of cement and stone? In many other parts of the world, commemorative peace gardens are being created or re-born like the ancient rose garden in Kabul, reminding of how nature can help human beings reconcile with death and pain. So why not a peace garden in Jaffna with local trees and plants where grief, irrespective of race or creed, can find solace.
Source – 11/06/2017, the sunday Times, see more at – http://www.sundaytimes.lk/170611/plus/i-think-that-i-shall-never-see-a-poem-lovely-as-a-tree-244283.html