With the remaining water sources continuing to dry up, the task of finding safe drinking water for over a million people affected by the prolonged drought, is becoming more challenging by the day.
In the worst affected areas such as Kurunegala, Puttalam and Trincomalee, authorities are scrambling to transport and distribute drinking water to tens of thousands, who are also facing severe economic hardships due to the devastation of their agricultural crops and livelihoods by the drought.
According to the Disaster Management Center's (DMC) drought situation report issued at 9 am yesterday (5), over 1.1 million persons from more than 341,000 families in 137 Divisional Secretariat Divisions, are affected by the drought. Fifteen Districts are severely affected, while two others are moderately affected, said DMC Assistant Director Pradeep Kodippili.
Kurunegala District is the worst affected, with 151, 262 persons affected by the drought, while the Trincomalee District had 140,938 affected persons. Putta lam, Jaffna and Mullaitivu had over 100,000 persons affected by the drought.
Mr Kodippili noted that providing drinking water to the affected was the biggest challenge faced by authorities, with Rs 40 million already allocated for this purpose. Over 200 new bowsers and 6,000 water storage tanks had been sent to affected areas within the past few months.
District DMC offices were coordinating with District and Divisional Secretariats, Pradeshiya Sabhas and Grama Niladhari Divisions in distributing drinking water and conducting other drought relief efforts in affected areas.
The Govt is initiating drought relief measures in two ways, Minister of Disaster Management, Anura Priyadarshana Yapa told the Sunday Times. One aspect is the distribution of safe drinking water to affected areas, while the other is providing relief to families whose crops have been destroyed or damaged by the drought.
Bowsers and tractor-mounted bowsers have been dispatched to affected areas to distribute drinking water, the Minister pointed out. "We are also distributing water storage tanks, but have found the numbers are not sufficient," he acknowledged. Accordingly, measures have been taken to purchase more water tanks for the drought-hit areas.
Additionally, the Sri Lanka Navy is also involved in setting up sea water purification plants in places such as Jaffna.
Meanwhile, efforts are also under way to provide relief to those affected by the drop in agricultural produce. Accordingly, the Govt will be distributing relief packs with Rs 5,000 worth of essential food items to each family in the affected districts every month for the duration of the drought.
According to Minister Yapa, initial estimates put the amount of funds required for the distribution of relief packs alone at Rs 2.5 billion per month. "It's a huge economic burden," he observed, "But, there's nothing much we can do about that. People need relief."
"The parcels will be distributed through Co-operatives and Sathosa outlets after District Secretariats send details of the affected in their respective Districts," he further said.
The Sunday Times also spoke to officials in several Districts severely affected by the drought, regarding the situation in their areas. In the Puttalam District, 15 of its 16 Divisional Secretariat Divisions are affected by drought and the main difficulty now faced by authorities is finding water sources in the district to fill bowsers to supply affected areas, said Assistant District Secretary W.M.C.K. Wanninayake. "Most water sources have dried up and the ones that remain are not enough. We are currently faced with the prospect of not being able to find enough drinking water to distribute," he stressed.
"Therefore, in addition to distributing water via bowsers, officials had requested funds to construct temporary wells near tanks," he added. "Funds have also been requested to clean disused tube wells."
"Compensation for damage caused to crops was also being paid at Rs 10,000 per affected family in the first round. The Rs 5,000 relief packs would also be distributed in the coming days," said Mr Wanninayake.
"If the drought continues, there are fears the region's coconut production too would be severely damaged," he added.
The Trincomalee District faces a similar problem, as all water sources in the Gomarankadawala Divisional Secretariat Division have run dry. "The only way we can get drinking water to Gomarankadawala now is by transporting it all the way from Trincomalee in bowsers," revealed DMC's Trincomalee Assistant Director K. Sugunathas.
Mr Sugunathas said that, "However, all necessary equipment and funds have been made available for officials to provide relief, with a large bowser capable of transporting 13,000 litres of water was delivered this week.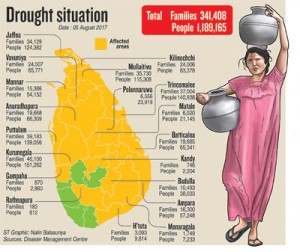 In Kurunegala, 30 bowsers have been dispatched to distribute drinking water," said Additional District Secretary R.M.R. Rathnayake. The drought has had a severe impact on paddy cultivation, with only about 25% to 30% of paddy lands cultivated during this season.
Matale District Secretary D.P.G. Kumarasiri meanwhile, has instructed his Grama Niladharis to furnish daily reports to their respective Divisional Secretariats regarding details of families sans access to drinking water or, forced to purchase drinking water from shops or, travelling long distances to obtain water. Such data enables authorities to identify areas urgently in need of water, so they can provide it free of charge," he explained.
According to Mr Kumarasiri, Galewela, Dambulla and Wilgamuwa areas in the district were the worst affected, with 70 Grama Niladhari Divisions directly impacted by drought.
Minister Anura Priyadarshana Yapa stated the Govt expected such drought relief measures to be in place for a short term as the Dept of Meteorology has forecast the current drought to prevail till the end of September or beginning of October. "The coming monsoon is forecast to be a normal one, with many rice producing areas severely hit by the present drought, getting sufficient water," the Minister remarked. He however, added there was always the chance this would not happen, in which case the current relief measures will have to continue.
The Minister outlined the need for implementing short, mid and long term measures to mitigate effects of drought. "The reason is that, we have seen our monsoons are now periodically failing. The main culprit is climate change, the effects of which are being increasingly felt," he opined.
"While the Govt would take whatever steps possible, the public also had a duty to conserve water. Whether you have your own water resource or, if you purchase water from the Govt, you need to understand that water is now a scarce commodity. Wastage must stop," the Minister insisted.
Source – 06/08/2017, The Sunday Times, See more at – http://www.sundaytimes.lk/170806/news/govt-scours-scrambles-for-potable-water-for-the-drought-affected-253345.html