Opportunists burning down our forests simply in order to collect sand cheaply are amongthes whose actions have caused about 4,570 acres of forest and scrub to go up in flames this year alone.
"They do this because when it rains after a fire, all the solid is washed down into the streams and rivers which makes it easier to collect sand," Forest Conservation Department Director, Anura Sathurusinghe said.
"This causes water springs to dry up, injury and death to wild animals and completely destroys the natural processes of the environment," he said.
Fires have been burning in Hambantota, Nuwara Eliya, the Knuckles Range Monaragala, Anuradhapura and Badulla, and Mr. Sathurusinghe said most of them have been set alight by sand miners, poachers and cattle-owners razing forest land for pasture for their herds are mainly responsible for the forest fires.
Environmentalists say it may take more than many decades to restore the balance in the environment, following the destruction of the forests.
The arson has also had a severe impact on crops. Cinnamon crops and chena cultivations have been completely destroyed.
The fires were worsening the already-high air pollution over Sri Lanka, while also destroying forest ecosystems and affecting nesting birds and other animals, environmentalist, Lahiru Supun Prakash of the Biodiversity Conservation and Research Circle said.
The burning down of trees, Mr. Prakash added, was also damaging the country's ability to combat greenhouse gas emissions. Trees absorb and store carbon from the atmosphere, so the more trees that are burned the harder it becomes to combat climate change in the future.
"These fires are causing severe consequences to the environment. Important plants, waterways are destroyed. There is an increased risk of landslides, and they also have an adverse effect on weather patterns, causing droughts in the future," Disaster Management Ministry Deputy Director, Sarath Lal Kumara said.
"We believe that the best way to tackle this problem is by creating awareness as many of the offenders go undetected while the police will not make any arrests without proof."
But the thick smoke and remote and difficult, mountainous terrain were making the job difficult for  firefighters, army soldiers and forest guards deployed to battle the flames, Mr. Kumara said adding that, nearby villagers have been asked to stay on alert but none has yet been asked to evacuate.
Arsonists can be fined up to Rs. 50,000 or be given a two to five-year sentence, Mr. Sathurusinghe said,
Mr. Prakash said it was fortunate that many of the fires are either in grassland areas or plantations of eucalyptus or pine so that the impact native forests and biodiversity was some on what limited.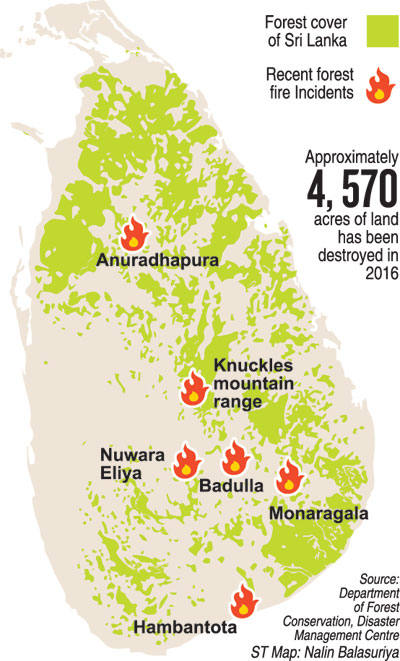 Source : October,2016 Sunday Times  http://www.sundaytimes.lk/161002/news/to-get-sand-theyll-even-burn-down-a-forest-211020.html