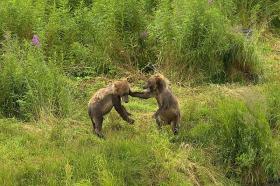 Kodiak brown bears are abandoning salmon–their iconic prey–due to climate change, according to a new study.  
The bears are more interested in chowing down on early-arriving red elderberries. The likely result of this "prey switch," the researchers conclude, is a disrupted ecosystem on Alaska's Kodiak Island. The research was conducted by biologists at Oregon State University, University of Montana's Flathead Lake Biological Station, and Kodiak National Wildlife Refuge.
The findings were published this week in the journal Proceedings of the National Academy of Sciences.
The bears–the largest in the world–typically gorge on sockeye salmon in the summer. But in 2014, researchers were surprised to see streams in the Kodiak National Wildlife Refuge full of salmon–with no bears in sight. The scene repeated itself the next year.
Source – 23/08/2017, ENN, See more at – http://www.enn.com/ecosystems/article/52239